Boost Your Bar Experience with Powerbank Sharing Stations
Say goodbye to "low battery anxiety" at the bar! Powerbank sharing stations are here to save the day, making phone charging a breeze and keeping the good times rolling. Cheers to that!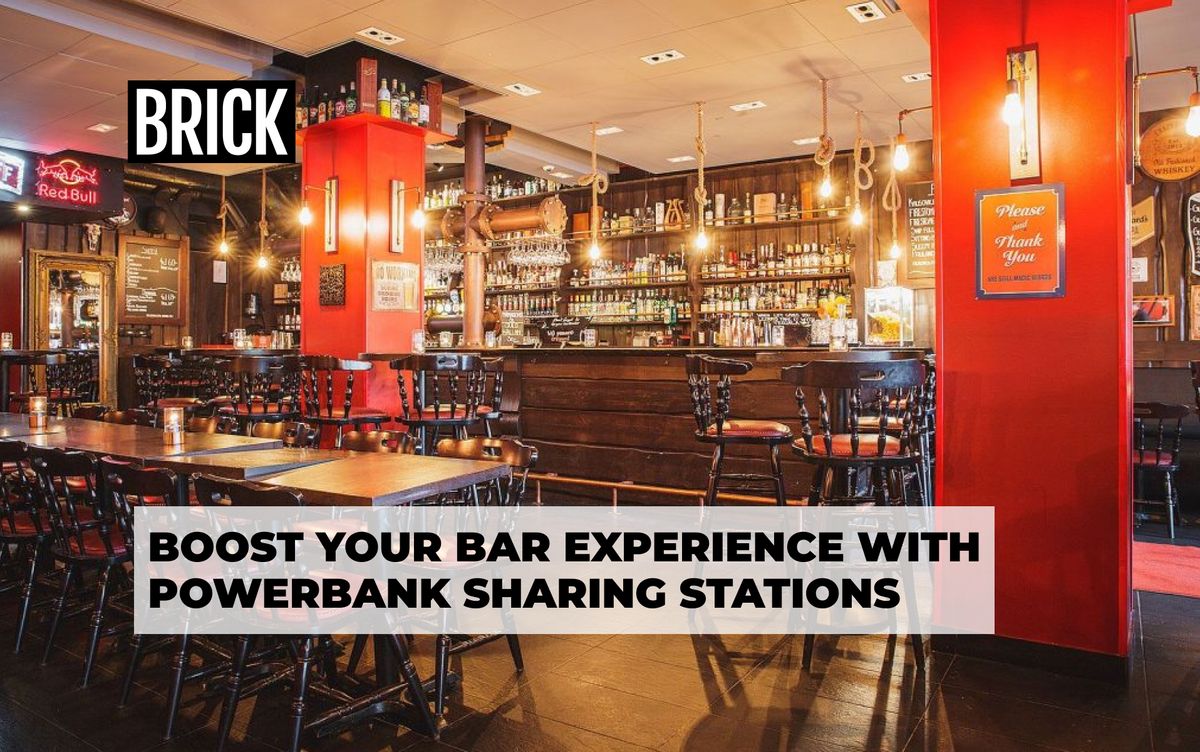 The Perfect Solution for Charging Phones in Bars
We've all been there: you're at a bar waiting for your friends, but everyone seems to be running late. On top of that, your phone's battery is critically low, and the bartender has no spare charger, or so it seems anyway. This situation is not only frustrating but also highly inconvenient for both guests and bar staff. This is where powerbank sharing stations could quite possibly be the ideal solution for both bar owners and patrons in need of a quick charge. Enhancing the overall bar experience.
Powerbank Sharing Stations: A Bar Owner's Perspective
In Stockholm, Crazy Horse, a popular bar, faced the challenge of guests' frequent requests for phone chargers. Managing multiple guests' phones and dealing with the potential risk of misplaced or stolen chargers was becoming a significant issue for the bar staff. The staff recognized the need for a better solution and when we approached them when Brick launched in Sweden they agreed to install a Brick powerbank sharing station.
According to Aman at Crazy Horse, a popular bar in Stockholm, before they installed a Brick powerbank station, they were asked about borrowing chargers several times a day. They only had two outlets available in the bar, which meant a lot of running back and forth pretty much every half hour.
After getting the Brick station, the staff no longer needed to worry about managing guests' phones or dealing with misplaced chargers. Instead, they could focus on their primary tasks, such as serving drinks and ensuring customer satisfaction. Not only does a powerbank station make life easier for the staff, but it also makes guests more likely to stay longer. People want to charge their phones in their hands, by the table, and are usually happy to pay a small fee for the convenience.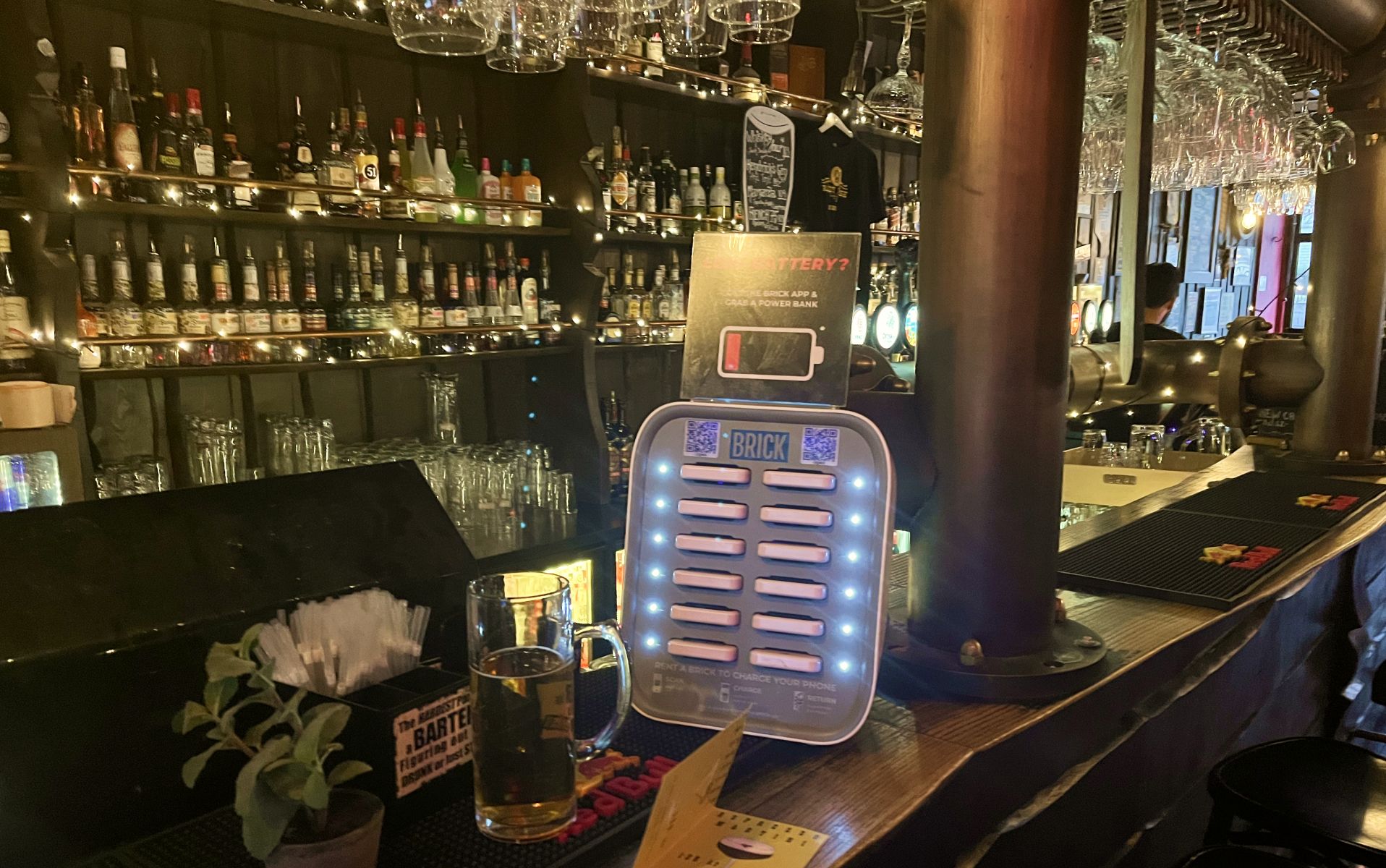 Enhancing the Bar Experience for guests
Having a powerbank sharing station in the bar gives guests a very easy way to charge their phones, leading to a more enjoyable and stress-free experience. With a charged phone, patrons can stay connected with their friends, use ride-sharing or scooter apps, and feel safer on a night out.
Moreover, this modern charging solution caters to the increasing reliance on smartphones. Whether it's for sharing pictures on social media or looking up directions to the next venue, a powerbank sharing station ensures all phones have enough juice to last through the night.
How Powerbank Sharing Stations Work in Bars
When a powerbank station is installed, all the staff has to do is simply to ensure that it is easily accessible and visible to customers. It can be placed on the bar counter, near the entrance, or in another highly visible location. The guests can then rent a powerbank, use it at their table, and return it when they're done. This hassle-free solution has been well-received by both staff and patrons.
Aman at Crazy Horse says that it's great that we can refer to the station when someone needs to charge their phone. "We won't charge any phones behind the bar anymore. We tell them to download the Brick App and then to read the instructions on the station. Most guests thinks it's very easy and get started very quickly."
The Brick app provides clear instructions, making it easy for guests to use the service without assistance from the bar staff. The rental cost is often minimal, and many patrons are happy to pay for the convenience of charging their phones on-the-go.
The Success of Powerbank Sharing Stations in Bars
At Crazy Horse in Stockholm, the Brick powerbank sharing station has had over 100 rentals per month on average. This success can be attributed to the bar's popularity, the station's visibility, and the staff's willingness to promote the service to customers. Additionally, word-of-mouth marketing can play a role, as satisfied patrons share their positive experiences of both Brick and the bar with friends.
Why Bars Should Consider Installing Powerbank Sharing Stations
In conclusion, powerbank sharing stations are an ideal addition to bars as they provide a convenient solution for both guests and staff. Bar owners can enjoy increased revenue as patrons stay longer, while customers benefit from the convenience of charging their phones. The powerbank sharing station has become a common sight in many bars, making it stand out from competitors that don't have it. As more bars adopt this technology, it is becoming increasingly important for establishments to stay ahead of the curve and offer customers the best experience possible. It's simply a charger when and where you need it that's convenient for both guests and staff.
Check out the Brick website to get your own station or keep reading here about technology trends in shopping malls.